Technology
INTERNET·CYBERSPACE
IMMERSIVE MEDIA
IP
LIBRARY
INTERNET-CYBERSPACE
Metalaw®.US focuses heavily on the law of cyberspace and Internet law. Rita Lauria handles a variety of Internet-related issues involving intellectual property, contracts, privacy violations, and other areas of the law that come into play when one uses cyber technology to create, to sell, and to communicate. To preserve your rights and to ensure your protection, Metalaw®.US offers advice, counseling, and litigation in a range of areas involving the Internet, Ecommerce, and immersive cyber environments.
General areas of legal engagement involving the Internet include:
Copyright
Trademarks and domain names
Patent law
Spam and cyber crimes
Privacy polices/protections
Emerging liability issues in social networking
First Amendment
Contracts
Selected Areas of Specific Engagement include:
Copyright and Trademark Registration and Protection in Cyberspace
Internet Content and Development Agreements
End User License Agreements
Website Terms of Use and Privacy Policies
DMCA/Infringement Policies and Enforcement Proceedings
Social Media Policies and Procedures
Website Cross-Promotion and Cooperation Agreements
(Co-Branding, Widget, and Linking Agreements)
Non-disclosure and Confidentiality
Cybersquatting & Domain Name Protection
Privacy & Publicity Rights in Cyberspace
Email and Other Electronic Communications Policies
Policies and Procedures for Managing Third-Party Exposure
Contracts & Content Licensing
Mediation of Online Disputes
Defamation and Anonymous Speech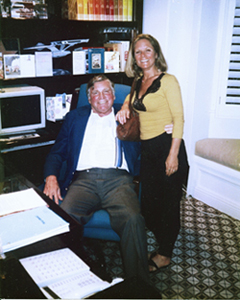 IMMERSIVE MEDIA
With more than twenty years working at the frontier of advanced communications media, Rita Lauria continues her work building a law practice specifically aimed at helping immersive world builders grow these worlds and protect their intellectual property. Before she began the practice of law, Rita Lauria's research focused on the paradigm shift occurring due to the pervasive use of advanced communications media that generate virtualities.
Rita Lauria with Gene Roddenberry,
Creator of Star Trek, Circa early 1990s -
Discussing Immersive Media
Development & Holodeck
Attorney Rita Lauria knows the world changes rapidly now and legal systems are slow to move with this change. Her background and experience working with researchers, designers, and developers in top university and private research labs developing at the leading edge of change puts her literally inside information where she can cite the future of immersive media design and deployment. If you want a good pulse on this future and you want to ensure your business is legally prepared, contact Metalaw®.US. We bring not only years of experience but also a world-class network of innovative minds to work for you.
INTELLECTUAL PROPERTY (IP)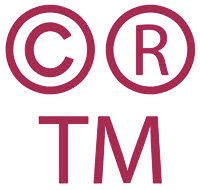 Trademark, Copyright, Patent Acquisition and Protection
Domain Name Disputes
Intellectual Property Mediation /
Alternative Dispute Resolution
Trademarks, copyrights, and patents are all types of intellectual property. Trademarks are business-oriented and protect brand names, slogans, and logos. Copyrights protect artistic works, like books, movies, paintings, and music. Patents are technical and scientific. Patents protect inventions, like machines and ways of manufacturing.
Applying for a trademark or a patent is a legal proceeding. The law requires trademark and patent applications be examined by the U.S. Patent and Trademark Office (USPTO) before they can be approved. USPTO registration is neither instantaneous nor guaranteed. For instance, each trademark registration application must be reviewed. Applications may be refused or need to be corrected. You may be required to pay additional fees. Read more about Trademark Basics.
Let Metalaw®.US take the worry out of acquiring the protection you need for building your business by making sure your mark, copyright, or patent complies with all legal requirements for registration.
At Metalaw®.US our goal is to make sure the legal process of acquiring your intellectual property registration is conducted properly and you register your mark or copyright or get your patent efficiently and effectively. We aim to save you time and money conducting this legal process.
Metalaw®.US Law Offices represents clients in transactional matters from around the world. If the need arises we mediate intellectual property disputes and will assist you to litigate when necessary. Let Metalaw®.US help you acquire the protection you need for your intellectual property.
Contact Metalaw®.US for all your intellectual property acquisition needs. Contact Metalaw®.US when disputes arise concerning your intellectual property, whether marks, copyrights, patents, domain names, or other matters.
LIBRARY
INTERNET·CYBERSPACE
IMMERSIVE MEDIA
IP
Internet - Cyberspace Reading Room
Laws
Books & Articles
Other Resources
Intellectual Property (IP) Reading Room
Rules, Statutes, Videos
Other Resources
Other Sites